Welcome to the first Homes England newsletter update for the South West Rugby Neighbourhood
As plans for the South West Rugby Neighbourhood progress, and ahead of a dedicated project website launch in autumn this year, we would like to share the latest information on the project with you, and provide details of how you can share your views and get involved in the vision for this site.
We would like to keep in touch with you about our plans.
If you would like to continue to receive updates and communications about the plans at the South West Rugby Neighbourhood, please register your interest here (mailto:info@southwestrugby.co.uk) . You can also opt out of communications at any time by clicking unsubscribe at the bottom of this newsletter.
What is the ambition?
SW Rugby will be a connected and vibrant new neighbourhood for Rugby, providing high quality new homes and new community facilities for the area.
The development will not only provide much needed housing, schools, healthcare facilities, community uses and employment opportunities for the area, but it will also deliver key highways infrastructure improvements to alleviate traffic congestion in and around Dunchurch, as well as new cycle and pedestrian linkages throughout the site.
SW Rugby was allocated in the Rugby Borough Local Plan 2011 to 2031 (adopted June 2019), to provide around 5,000 homes and 35ha of employment land. The South West Rugby SPD (adopted June 2021) provides additional guidance to help shape the delivery of the site.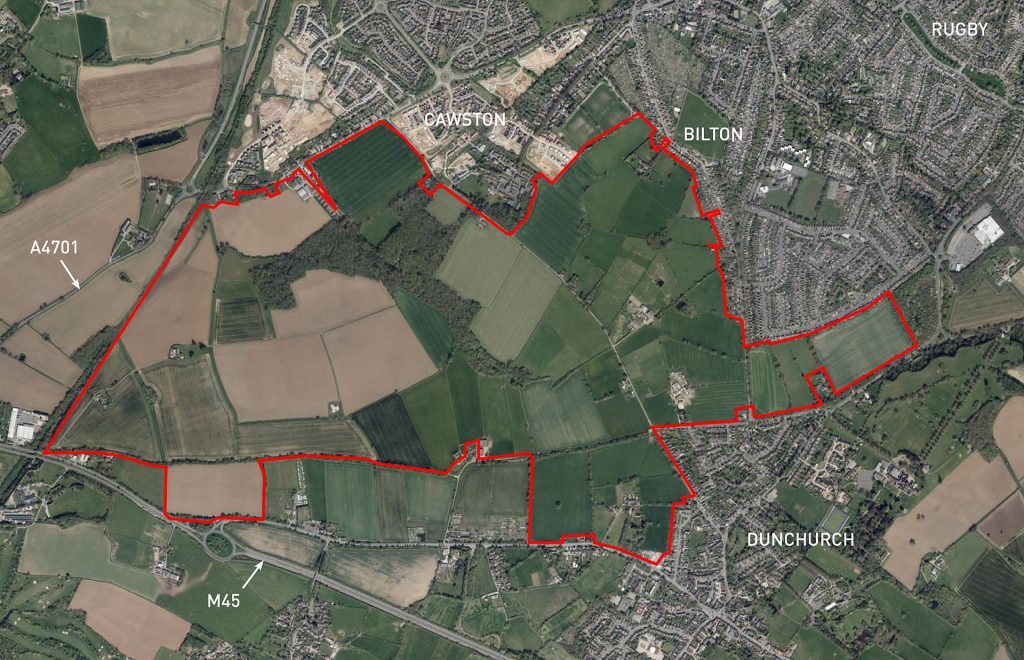 Who's involved?
In 2020, Homes England acquired 92.03 hectares of land from Warwickshire County Council and another private owner. Outside of Homes England's land, the South West Rugby Neighbourhood encompasses land being promoted and developed by individual private developers delivering portions of the new housing, employment and community facilities for the site:
• Taylor Wimpey
• Tritax Symmetry
• L&Q Estates
• Richborough Estates
Homes England is responsible for delivering a portion of the planned housing, new schools, district centre including healthcare and retail uses and highway infrastructure including the Homestead Link Road. This is to ensure the new development has the necessary supporting infrastructure and alleviates impacts on Dunchurch and the surrounding area.
What will be delivered?
The proposals for South West Rugby seek to deliver the aims and aspirations of the Local Plan by delivering up to 2031:
* The remainder of the allocated 5,000 homes (circa 4,000 homes once recent developments at Ashlawn Road and Coventry Road are accounted for)
* 2 primary schools
* 1 secondary school
* New highway infrastructure including the Homestead Link Road
* New district centre including a GP surgery and retail outlets
* 35 hectares of employment land
* New walking and cycle routes, green infrastructure and protection of existing assets including Cawston Spinney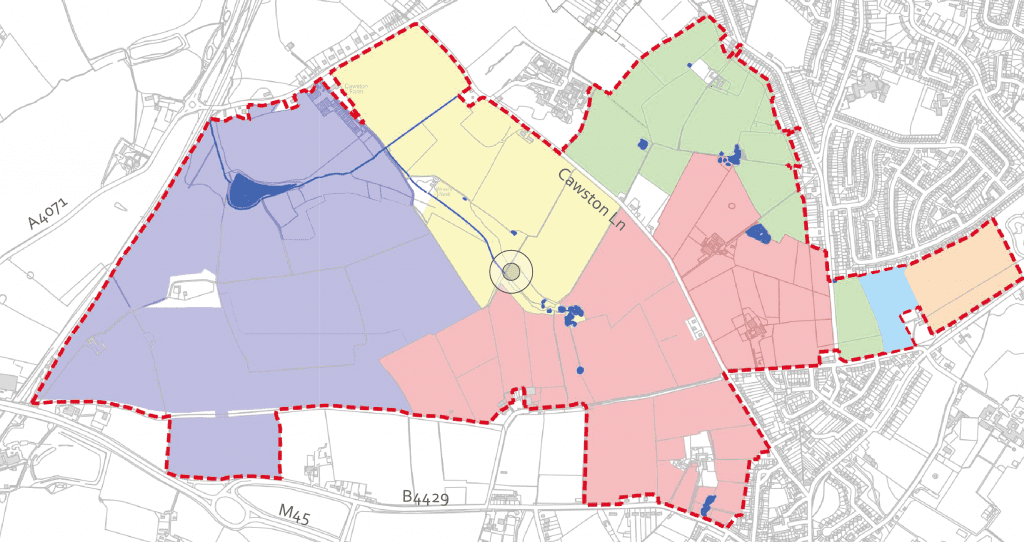 What has happened so far?
* Tritax Symmetry secured outline planning permission for 186,500sqm of employment (distribution) floorspace in November 2020. Full planning permission was granted in May 2021 for the first 30,435sqm of this floorspace and a further application for a 50,965sqm unit has recently been submitted
* There are two 'live' applications being considered by Rugby Borough Council for land immediately to the north and north-west of Cawston Spinney
+ An outline application by L&Q Estates for 210 homes and a new primary school (approved subject to s106 agreement)
+ An outline application by Tritax Symmetry for 275 homes
Have your say
Homes England will continue to engage and consult with local partners in the run up to and following the submission of its planning applications, and will share details of other consultation opportunities from other developers on the site.
We want the local communities and stakeholders to have their say and get involved at every stage of the development, and we welcome feedback. We are also keen to hear from potential purchasers, community groups and businesses who may be interested in becoming residents or business occupiers of the future development.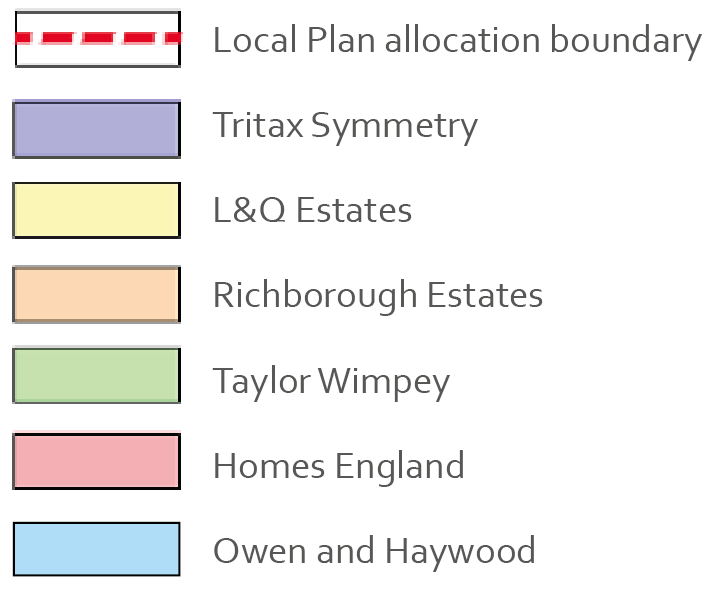 Timeline
* Autumn 2021: Public consultation on the Homestead Link Road and landscape buffer
* Late 2021: Planning application for Homestead Link Road and landscape buffer
* Late 2021: Formal opportunity for the local community to comment on the submitted application
* Spring 2022: Decision on application
* Summer/Autumn 2022: Homestead Link Road construction to commence (subject to approval)
* During 2022: Future applications for the residential, local centre, and community uses will be submitted during 2022
* Summer/Autumn 2023: Homestead Link Road completion
Cawston Woods Buffer
We have noted concerns from the public about the buffer zone around Cawston Woods and Cawston Spinney, and fears that the planned developments in the area may encroach on this piece of ancient woodland.
The landowners directly adjoining the woodland, Tritax Symmetry and L&Q Estates, have confirmed that they have set a buffer zone for their proposed developments that is more than Natural England's recommended 15m buffer, and is up to 55m in some places.
Homes England does not directly control any of the land adjacent to Cawston Spinney, and we do not have any proposals for development within 50 metres of this woodland area. The adopted SW Rugby SPD ensures that the SW Rugby development also includes a woodland management plan to protect the woodland and enhance its biodiversity. This is currently available to view here.
Why we are… Investing in South West Rugby
Delivering the much needed homes to address the current nationwide housing crisis whilst being mindful of climate change and how this development can reduce the need to travel, encourage sustainable transport choices, and improve and enhance biodiversity through a well designed scheme.
A key objective for Homes England is to work in collaboration with partners, landowners and stakeholders to bring forward this sustainable development in areas where supply and affordability of housing is a real problem. The emerging scheme is well placed to improve the quality of life for existing and future communities by delivering wide ranging social, environmental and economic benefits.
As the Homes England planning applications are prepared and submitted, we will actively consultant local residents on proposals at key stages and welcome the views of the community on the vision for the future of South West Rugby.